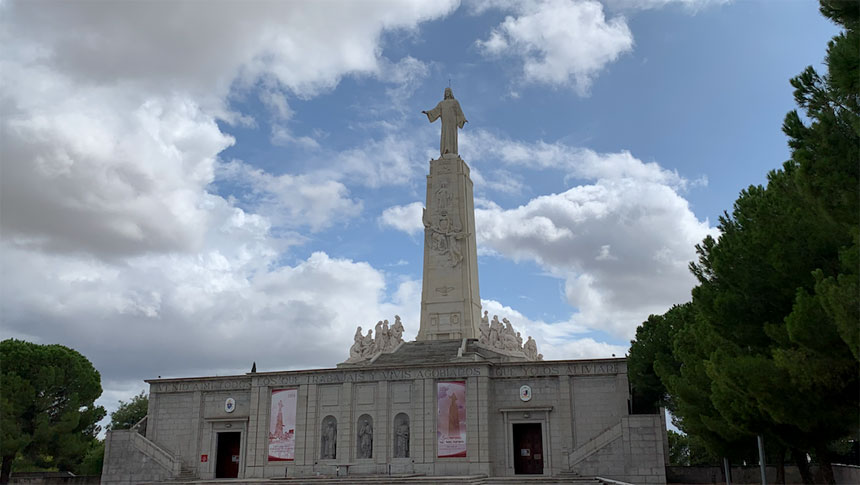 • September 20, 2020, Holy Rosary at TheRosaryNetwork.org/youtube 
• Audio Podcast available by 8:00 pm ET
Friends of the Rosary,
I'm reaching you today from the Cerro de Los Angeles, Hill of the Angels, the geographic center of Spain, in the south of Madrid. The site hosts a fourteenth-century monastery named Our Lady of the Angels (Nuestra Señora de Los Ángeles), a shrine, and magnificent monument dedicated to the Sacred Heart of Jesus.
The Holy Trinity's ways are not our earthly ways. The parable of the vineyard explained in today's Gospel (MT 20:1-16A) shows that the landowner — meaning, the Lord — rewards and distributes His grace according to His will. That might upset us, prompting to say: "It's just not fair."
Well, once again we're wrong. What really works, even in our daily life, is God's will and justice, because we poorly manage our affairs. It is better to surrender and follows Jesus Christ's will and grace.
[Written by Mikel A | The Rosary Network, New York]
___
For always trusting in Jesus Christ and Immaculate Mary, knowing they want to give us peace on earth and save our souls for eternity.
For consecrating ourselves to the Sacred Heart of Jesus, like Spain, the US and many other countries did so, despite the unbelievers' anti-Christian agenda.
Friends, if I may, I'd like to ask to join me in prayer for the health of David Calzada, a web engineer of the Rosary Network. He is fighting for his life in the ICU against the COVID. David needs to recover and to see the light of Jesus and Mary.
___