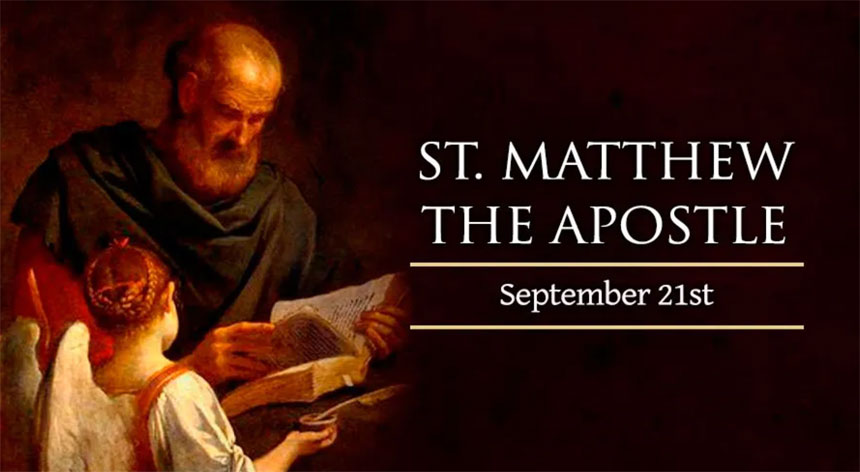 Friends of the Rosary:
Today, we celebrate the feast day of the apostle Saint Matthew, who chronicled the life and ministry of Christ in his Gospel, the first of the four Gospels.
Matthew was a Jewish publican tax collector who turned into a disciple of Christ. Tax collectors on behalf of the Roman rulers of first-century Judea were hated among their own communities.
Jesus first encountered Matthew near the house of Peter, in Capernaum near the Sea of Galilee. "As Jesus passed on, he saw a man named Matthew sitting at the customs post. He said to him, 'Follow me. And he got up and followed him," says the Gospel of Matthew.
Jesus' response caused religious authorities of the Jewish community to wonder: "Why does your teacher eat with tax collectors and sinners?" Jesus' explained to them: "I did not come to call the righteous but sinners."
A witness to Christ's resurrection after death, as well as his ascension into heaven and the events of Pentecost, Matthew also described Jesus' instruction for the apostles to "Go, therefore, and make disciples of all nations, baptizing them in the name of the Father, and of the Son, and of the Holy Spirit, teaching them to observe all that I have commanded you."
Like 11 of the 12 apostles, St. Matthew is traditionally thought to have died as a martyr while preaching the Gospel in Egypt.
Reflecting on St. Matthew's calling, Pope Benedict said in 2006 that "those who seem to be the farthest from holiness can even become a model of the acceptance of God's mercy and offer a glimpse of its marvelous effects in their own lives."
Ave Maria!
Jesus, I Trust In You!
St. Matthew, Pray for Us!
+ Mikel A. | RosaryNetwork.com, New York