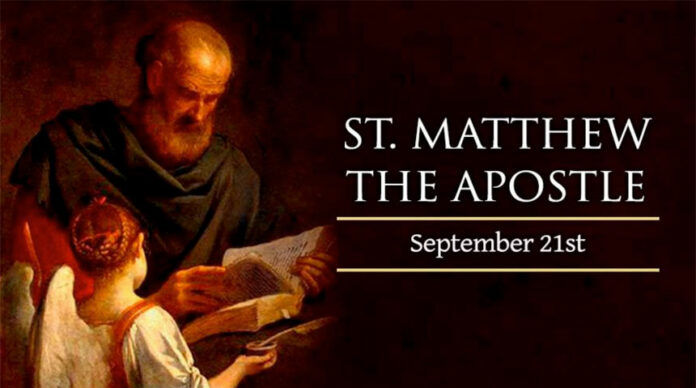 • September 21, 2023, Today's Rosary on YouTube | Daily broadcast at 7:30 pm ET
• The Audio Podcast of this Rosary is Available Here Now!
Friends of the Rosary:
Today is the feast day of the Apostle and Evangelist St. Matthew. He had a hateful profession to the Jews, a tax collector for the Roman enemy, until he got the call of Christ.
One day, while seated at his table of books and money, Jesus looked at Matthew and said: "Follow me."
These two words made him rise, leaving his money to follow Christ. Jesus changed the name of the new apostle into Matthew, which means "Gift of God."
The Jews were surprised to see Jesus with a publican, a tax collector. The Son of God explained that he had come "not to call the just, but sinners."
The Gospel of Matthew was written to convince the Jews that their anticipated Messiah had come in the person of Jesus.
Matthew preached in Egypt and Ethiopia and further places East, having a martyr's death.
St. Matthew's call from Christ "Follow me" means that we are all called to belong to the family of God.
Ave Maria!
Jesus, I Trust In You!
St. Matthew, Pray for Us!
To Jesus through Mary!
+ Mikel A. | RosaryNetwork.com, New York