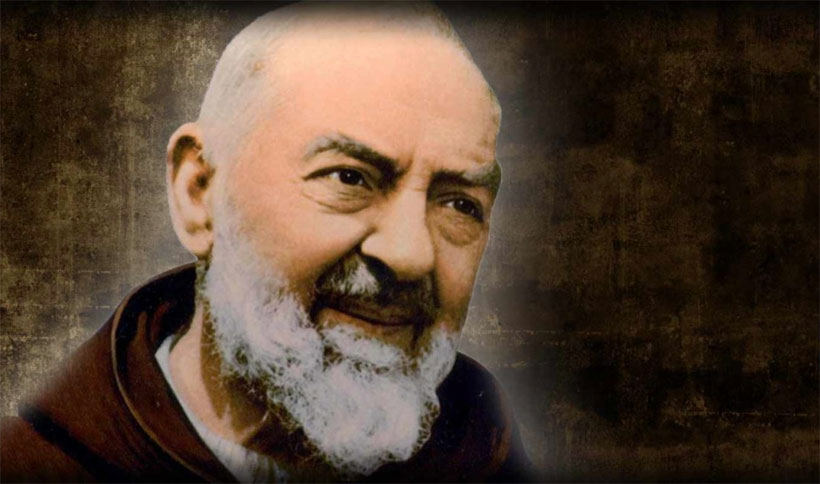 • September 23, 2020, Holy Rosary at TheRosaryNetwork.org/youtube 
• Audio Podcast available by 8:00 pm ET
Friends of the Rosary,
Today, we commemorate the Memorial of the Italian Franciscan priest St. Pio of Petrelcina, better known as "Padre Pio", a saint of the last century.
Known for his patient suffering, fervent prayer, and miracles, he became a worldwide point of pilgrimage.
During the first World War, he offered himself as a spiritual "victim" for the end to the conflict, accepting suffering as a form of prayer for peace.
At that time, while praying before a cross, Padre Pio received the Stigmata – Christ's wounds – in his own flesh. These mystical but real wounds would remain with him for 50 years.
He would hear confessions from dawn to dusk, was able to read souls, bi-locate, levitate, and heal by touch.
About the Rosary, Padre Pio said: "Some people are so foolish that they think they can go through life without the help of the Blessed Mother. Love the Madonna and pray the Rosary, for her Rosary is the weapon against the evils of the world today. All graces given by God pass through the Blessed Mother."
Padre Pio died in 1968, at the age of 81, and was declared a saint in 2002.
[Written by Mikel A | The Rosary Network, New York]
___
Padre Pio was always seen fingering his Rosary beads and was known to be a great lover of the Rosary.
Here are five times he mentioned this devotion, and the Queen to whom it is directed:
Be gone Satan
Satan wants to destroy this prayer, but in this he will never succeed. The Rosary is the prayer of those who triumph over everything and everyone. It was Our Lady who taught us this prayer, just as it was Jesus who taught us the Our Father.
Holding Mama's hand
In times of darkness, holding the Rosary is like holding your Blessed Mother's hand. Pray the Rosary every day. Abandon yourself in the hands of Mary. She will take care of you.
Right beside her
The attention must be on the "Hail Mary" and to the greetings which you give to the Virgin and on the mysteries which you contemplate. She is present in all the mysteries and she participated in everything with love and pain.
Always and often
Love our Lady and make her loved; always recite the rosary and recite it as often as possible.
——
For learning on the virtue of patient suffering that Padre Pío so well exemplified.
For being able to proclaim the Kingdom of Heaven among our friends, relatives and anyone we can reach, for we are called to be apostles of Jesus Christ.
For seeing a truly Catholic judge, naturally pro-life and pro-eternal life, seated at the Supreme Court of the United States.