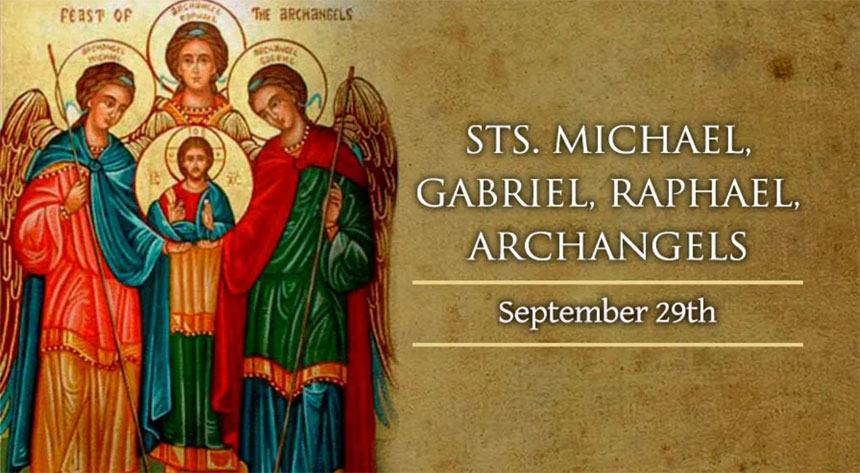 • September 29, 2021, Today's Rosary on YouTube | Daily broadcast at 7:30 pm ET
• Audio Podcast of this Rosary Available Here Now!
Friends of the Rosary:
Today, we celebrate the feast day of the archangels Saints Michael, Gabriel, and Raphael, the holy archangels with important roles in the history of salvation.
Michael — whose name means Who is like God? —, the Prince of the Heavenly Host, is the protector of all humanity from the snares of the Devil. St. Michael was the leader of all of the good angels, who fought against Lucifer and his followers when they rebelled against God, breaking a battle in Heaven.
Pope Leo XIII, in 1899, having had a prophetic vision of the evil that would be inflicted upon the Church and the world in the 20th century, instituted a prayer asking for Saint Michael's protection to be said at the end of every Mass.
Gabriel (Strength of God) announced the birth of John the Baptist to his father Zacharias, and the Incarnation of the Word in the womb of Mary. He greeted the Holy Virgin with the "Hail, full of grace." St. Gabriel might be the angel who consoled Jesus in the Garden of Gethsemane.
Raphael is the archangel who healed Tobias' blindness. He is in charge of healing and acts of mercy. His name means "God has healed."
Ave Maria!
Jesus, I Trust In You!
Sts. Michael, Gabriel, and Raphael Pray for Us!
+ Mikel A. | RosaryNetwork.com, New York