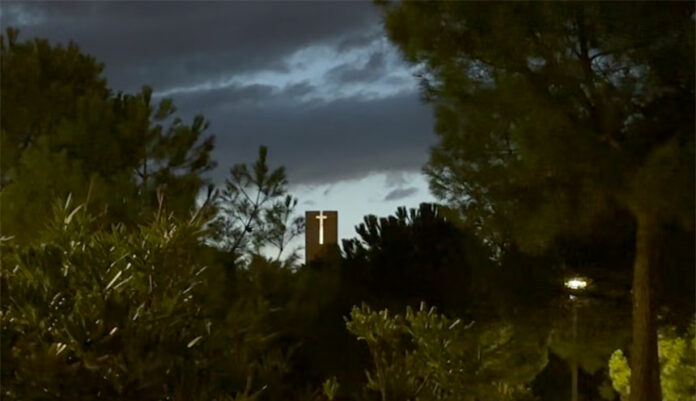 • September 5, 2023, Today's Rosary on YouTube | Daily broadcast at 7:30 pm ET
• The Audio Podcast of this Rosary is Available Here Now!
Friends of the Rosary:
We honor today St. Teresa of Calcutta (1910-1997), affectionally called "Mother Teresa. This Albanian nun received the Nobel Prize in 1979 and founded in Calcutta, India, the Missionaries of Charity in 1950, established in 30 countries today.
St. Teresa of Calcutta (Kolkata) proclaimed God's thirsting love for humanity, especially for the poorest of the poor. She was a soul filled with the light of Christ, on fire with love for Him and a burning desire "to quench His thirst for love and for souls."
"God still loves the world and He sends you and me to be His love and His compassion to the poor."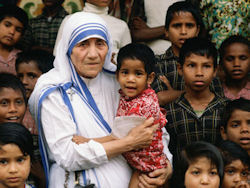 She started each day in communion with Jesus in the Eucharist and then went out, rosary in her hand, to find and serve Him in "the unwanted, the unloved, the uncared for."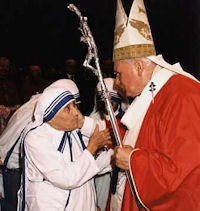 She was witness to the joy of love, the dignity of every human person, and the value of little things done faithfully and with love.
She experienced an interior life marked by moments of deep feeling of being separated from God, even rejected by Him, a "painful night" of her soul. This pain would lead Mother Teresa to an ever more profound union with God.
Mother Teresa left a testament of unshakable faith, invincible hope, and extraordinary charity. Pope John Paul II canonized Mother Teresa for her heroic virtues and miracles.
Ave Maria!
Jesus, I Trust In You!
St. Teresa of Calcutta, Pray for Us!
To Jesus through Mary!
+ Mikel A. | RosaryNetwork.com, New York