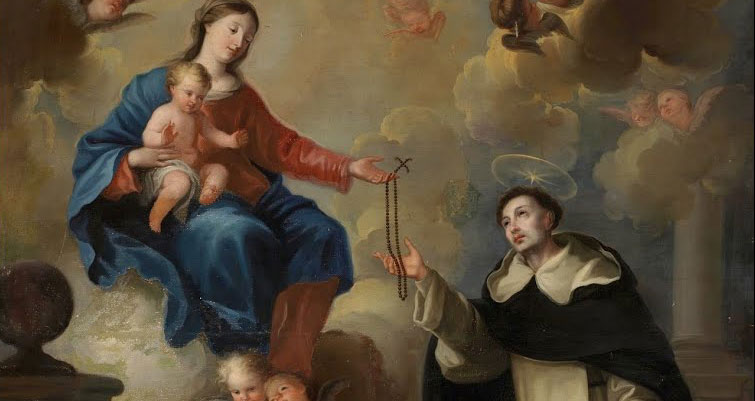 The Rosary Network | New York
> Today's Holy Rosary on YouTube and Facebook
Friends of the Rosary,
We celebrate today the feast day of St. Dominic Guzman, the Spanish medieval priest who received the Holy Rosary from the Virgin Mary for the whole Catholic Church. He also founded the Order of Preachers, known as Dominicans. Along with the Franciscans, the Dominicans became a key Order to maintain the purity of the faith.
Born in Caleruega, Castile, Spain, at the end of the twelfth century, Dominic observed, while traveling in the south of France the gravity of the Albigensian heresy. This unchristian heresy deadly poisoned souls by saying that the material world was evil and hence denying the Incarnation and the sacraments.
Deeply concerned, St Dominic withdrew into a forest near Toulouse. For three days and three nights, he prayed unceasingly, wept, and did harsh penances for the souls of the heretics. He used his discipline so much that his body was lacerated and finally fell into a coma. At this point, the Blessed Virgin appeared to him, accompanied by three Angels. She gave her the Rosary saying: "Dear Dominic, do you know which weapon the Blessed Trinity wants to use to reform the world?"
As instructed, Dominic Guzman used the Rosary as a powerful means of converting the Albigensians and other sinners. At the end of his earthly life, he converted over 100,000 people leading them to the truth.
His mother, Joanna of Aza, and his brother Manes were beatified by the Church.
[Written by Mikel A | TheRosaryNetwork.org]
—-
"This great saint reminds us that in the heart of the Church a missionary fire must always burn," Pope Benedict XVI said in a February 2010 General Audience talk on the life of St. Dominic. In his life, the Pope said, "the search for God's glory and the salvation of souls" went "hand in hand."