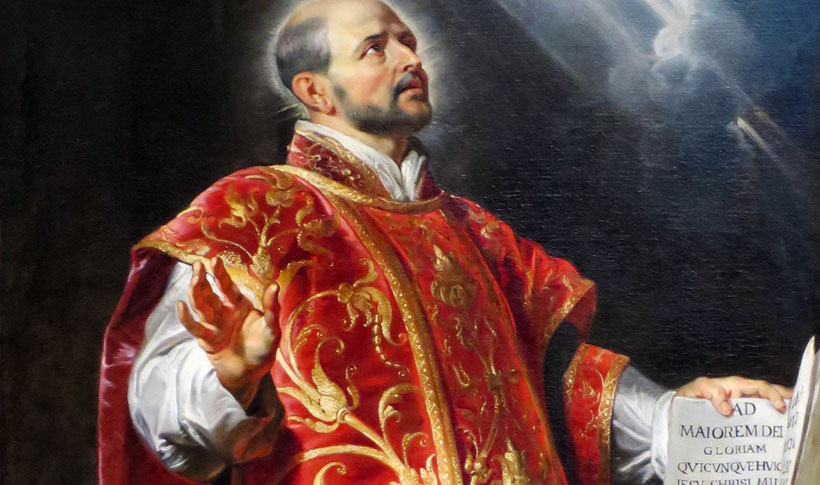 > Today's Holy Rosary on YouTube and Facebook
Friends of the Rosary,
Today is the Memorial Day of St. Ignatius of Loyola, founder of the Society of Jesus–the Jesuits–and one of the greatest Spanish saints, along with St. Dominic, St. Teresa of Avila, St. Francis Xavier, and others.
The Jesuits started in the sixteenth century as the Church's spiritual troops in the battle against the spread of Protestantism in Europe.
St. Ignatius sent Francis Xavier to the Indies, and other disciples were dispersed around the world, declaring war against paganism, superstition, and heresy.
The Jesuits would become the largest Catholic organization in the service of evangelization and culture–with hundreds of universities and colleges worldwide today.
Willing to die for the faith and devoted to gain souls for the greatest glory of God, St. Ignatius of Loyola underwent the hardest trials, even imprisonment and beating almost to death.
Favored by God with wonderful spiritual lights and power over demons, St. Ignatius wrote the book of the Spiritual Exercises, often used today for retreats and individual discernment.
[Written by Mikel A | TheRosaryNetwork.org]
–––
On April 22, 2006, Pope Benedict XVI presided over a Eucharistic concelebration for the Society of Jesus. He addressed the fathers and brothers of the Society present at the Vatican Basilica, calling to mind the dedication and fidelity of their founder.
"St. Ignatius of Loyola was first and foremost a man of God who in his life put God, his greatest glory and his greatest service, first," the Pope said. "He was a profoundly prayerful man for whom the daily celebration of the Eucharist was the heart and crowning point of his day."
Highlighting the need for "an intense spiritual and cultural training," Pope Benedict called upon the Society of Jesus to follow in the footsteps of St. Ignatius and continue his work of service to the Church and obedience to the Pope.