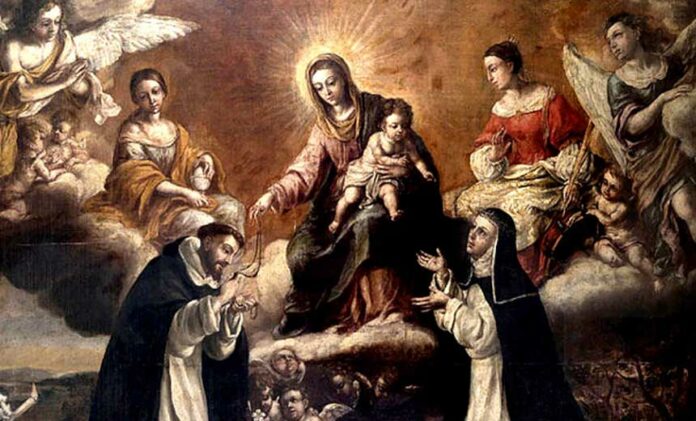 • August 8, 2023, Today's Rosary on YouTube | Daily broadcast at 7:30 pm ET
• Audio Podcast of this Rosary is Available Here Now!
Friends of the Rosary:
Today, we celebrate the Memorial Day of St. Dominic of Guzman (1170-1221), who received the Holy Rosary from the Virgin Mary as a means to combat the destructive heresy of the Albigensian in the twelve century. He crushed the heresy and led many souls to piety and to religious life.
The Spaniard priest St. Dominic also founded the Order of Preachers —the Dominicans — in the year 1215.
At that time, it was an innovative order since instead of manual labor, as practiced by the Cistercian monks, he required his friars to work with their minds by preaching and teaching.
Alongside the Franciscans, the Dominicans became the most powerful Order in medieval times, giving the Church illustrious preachers — St. Vincent Ferrer, Sts. Thomas of Aquinas and Pius V, among others— and contributed immeasurably to maintaining the purity of the faith.
St. Dominic, to whom popes and saints have consistently attributed the origin and spread of the holy rosary, had a saint mother, Juana de Aza.
During pregnancy, Dominic's mother dreamed she was carrying in her womb a little dog that held a burning torch between its teeth; and when she had given birth, it set the whole world on fire. St Dominic died at Bologna on August 6, 1221.
He was canonized three years later by Pope Gregory IX.
Ave Maria!
Jesus, I Trust In You!
To Jesus through Mary!
+ Mikel A. | RosaryNetwork.com, New York