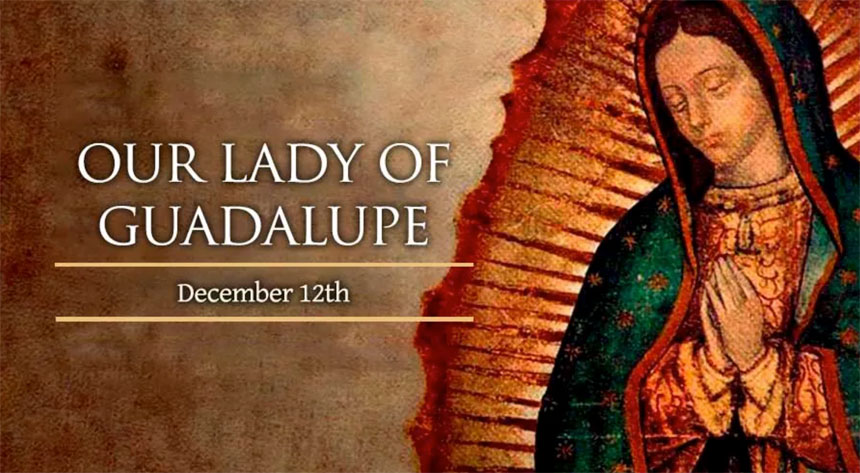 • December 12, 2021, Today's Rosary on YouTube | Daily broadcast at 7:30 pm ET
• Audio Podcast of this Rosary is Available Here Now!
Friends of the Rosary:
Today, we celebrate the Feast of Our Lady of Guadalupe.
On December 9, 1531, the Blessed Mother appeared, in her glorified body, to a poor Indian convert named Juan Diego in Tepeyac, a hill of Mexico City.
The Mother of God left a marvelous portrait of herself on the mantle — the tilma— of Juan Diego as a sign for the bishop.
The tilma has proved to be ageless, showing no sign of decay after over 470 years. To this day it defies all scientific explanations of its origin.
This miraculous image is kept in the shrine built in her honor, the Basilica of Our Lady of Guadalupe.
In 1910, Our Lady of Guadalupe was declared the Patroness of Latin America. In 1945 Pope Pius XII declared Her to be the Empress of all the Americas.
An incredible list of miracles, cures, and interventions is attributed to Our Lady of Guadalupe.
Each year an estimated 10 million people visit her Basilica, making her Mexico City home the most popular Marian shrine in the world, and the most visited Catholic church in the world after Saint Peter's Basilica in the Vatican.
Ave Maria!
Jesus, I Trust In You!
Our Lady of Guadalupe, Pray for Us!

+ Mikel A. | RosaryNetwork.com, New York