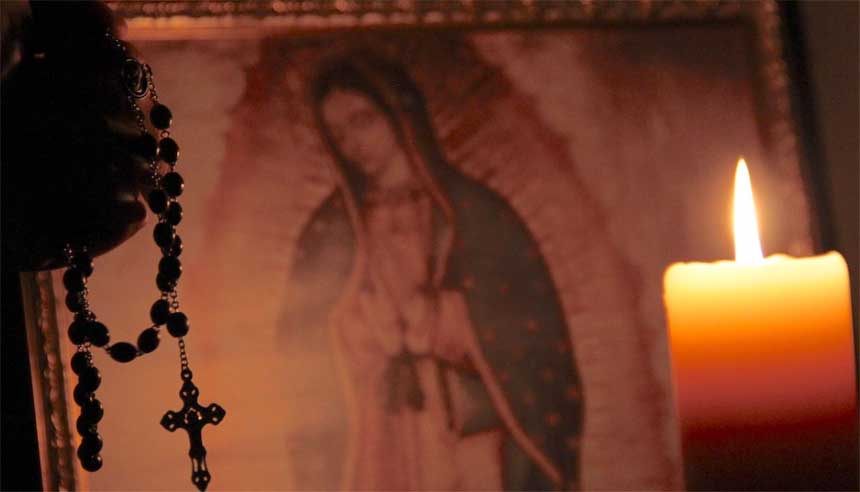 • Dec 13, 2020, Holy Rosary Today 7:30 pm ET, YouTube.com/TheRosaryNetwork
• Audio Podcast available by 6:00 pm ET
Friends of the Rosary,
The Aztec rituals of savage human sacrifices in pre-Columbian Mexico came to an end with the apparition of the Virgin Mary in 1531. Within ten years, practically the entire Mexican people converted into Christianity.
As Bishop Barron says, Our Lady of Guadalupe had proved a more effective evangelist than Peter, Paul, St. Patrick, and St. Francis Xavier combined.
At some point, the Heavens need to intervene to avoid our self-destruction. The Holy Trinity respects our human freedom to chose, but supernatural events are often required.
Jesus Christ began his miracles by Mary–at the marriage of Cana—and, as St. Louis Mary de Monfort wrote, "He will continue the miracles to the end of ages by Mary".
The Virgin mestiza changed the course of history. Her grace modeled the life of generations. We all feel guadalupanos.
Ave Maria!
[Written by Mikel A | The Rosary Network, New York]
___
Special Prayer Request. Please Join Us.
We pray today for the eternal rest of the soul of José Calatayud. José, 50, died today in Madrid, Spain, due to the COVID-19 virus, after two months in the ICU. He leaves a wife, Sara, and six children. José was known for his goodness. The Spaniard and Hispanic community in Greenwich, Connecticut, asks for prayers for José, Sara, and the family—faithful and devoted Catholics. Rest in peace in the arms of Jesus, Mary, and Joseph.