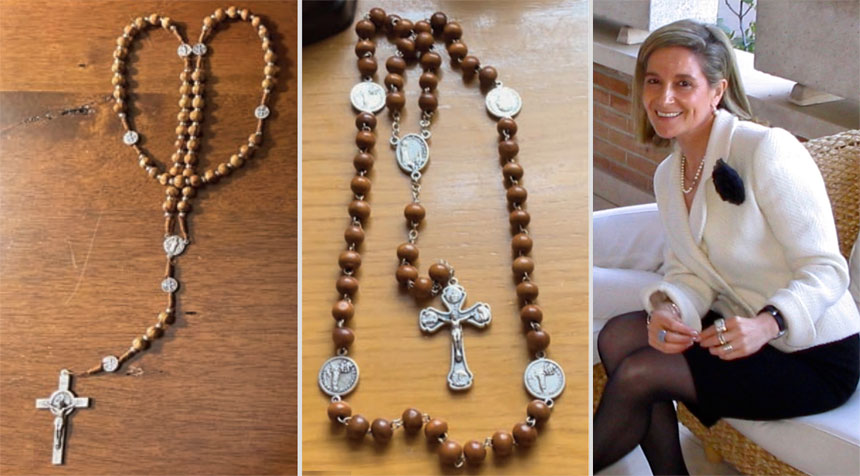 • December 16, 2021, Today's Rosary on YouTube | Daily broadcast at 7:30 pm ET
• Audio Podcast of this Rosary is Available Here Now!
Friends of the Rosary:
Everything we do, knowingly or unknowingly, is for the Glory of God. Then, the Glory of God is reflected in us. We should understand that we are united forever with the Holy Mighty One. Nothing can separate us from Jesus Christ: not the Evil Doer, nor the flesh, nor the world with its tricks and lies. Not even our own unspeakable sins!
The Holy Trinity gave us eternal life so we build together the Kingdom of Heaven here on our temporary life on earth and in the upcoming everlasting life. Humans talk about death, but there is no death for faithful people.
Life is eternally uninterrupted. Our loved ones in Heaven can testify about it — my beloved and eternal wife Maria Blanca in my case [in the picture above, along with the Rosaries she left to myself and my son 53 days after passing away].
Today, when we make one-thousand days by praying the Rosary of Mary in this community, we heartily thank Our Blessed Mother and Her Divine Son for the privilege and joy of giving us the grace to invoke daily the Heavens, and even talk in their holy name.
Such is the gracious Will of the Father, the Son, the Holy Spirit, and the Spouse of the Holy Spirit, along with the angels and the Communion of Saints.
Ave Maria!
Jesus, I Trust In You!

+ Mikel A. | RosaryNetwork.com, New York