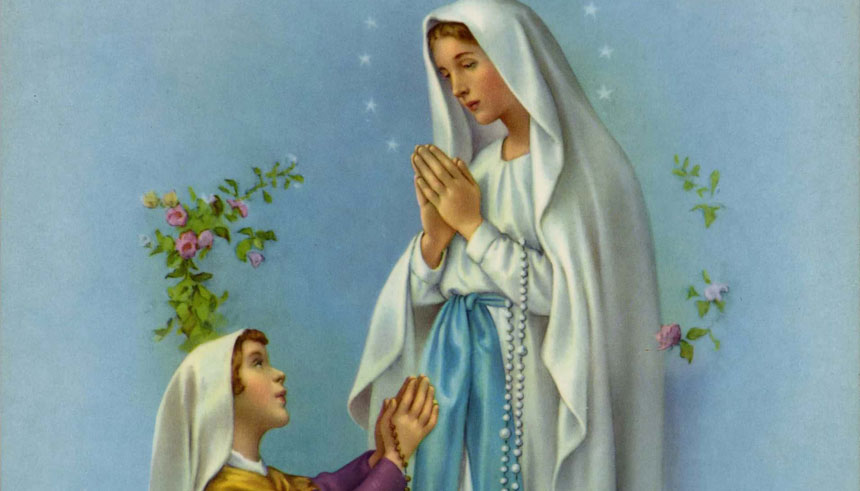 [ In the Memory of María Blanca ]
• February 11, 2021, Today's Holy Rosary, YouTube.com/TheRosaryNetwork
• Audio Podcast of this Rosary
• In Memoriam of Maria Blanca: Testimonials
Friends of the Rosary:
Today, marks the first apparition of the Blessed Virgin Mary on February 11, 1858, to fourteen-year-old Marie Bernade Soubirous, St. Bernadette, in Lourdes, in southern France. The Most Holy Mary revealed herself as the "Immaculate Conception," confirming the dogma defined by the Pope four years previous.
Our Lady asked Bernadette to drink from an unseen fountain at the grotto. She also called for a chapel to be built there. When Bernadette scratched at the ground, a stream of pure spring water surged forth. This stream demonstrated healing properties. A basilica was built upon the rock of the Massabielle, consecrated two decades later as the "Church of the Rosary."
Since then, Lourdes continues to draw pilgrims from around the globe. Seventy officially recognized cures — medically documented miraculous healings — and hundreds of "unofficial" healings have been reported at Lourdes. The shrine of Our Lady of Lourdes in France is one of the most visited pilgrimage sites in the world.
Ave Maria!
Jesus, I Trust In You!
Our Lady of Lourdes, Pray for Us!
+ Mikel A. | TheRosaryNetwork.org, New York