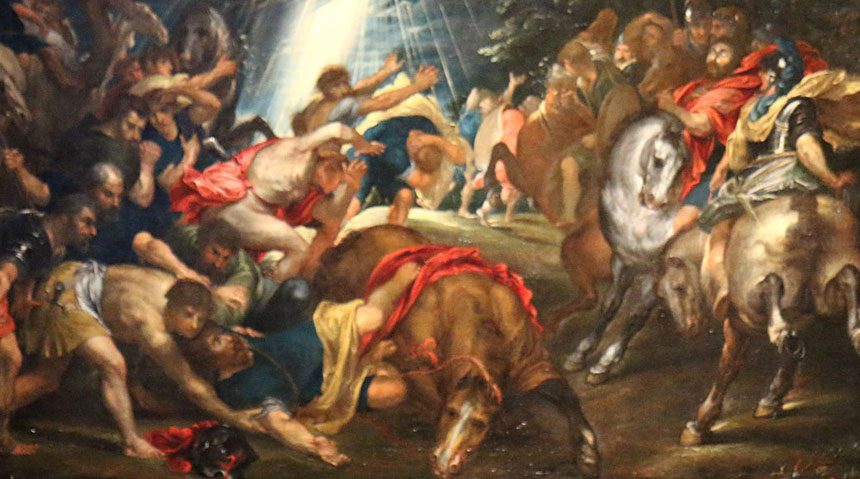 • Jan 25, 2021, Holy Rosary Today 7:30 pm ET, YouTube.com/TheRosaryNetwork
• Audio Podcast available by 6:00 pm ET
Friends of the Rosary,
We celebrate today the feast of the Conversion of St. Paul, the Apostle.
Before his soul was transformed, he was a zealous Pharisee, a learned scholar, and fierce persecutor of Christians—he even participated in the stoning of St. Stephen.
While on his way to Damascus, he was suddenly converted by a miraculous apparition of Jesus Christ. He became the great Apostle of the Gentiles in Asia and southern Europe, probably Hispania—the old Spain. He wrote fourteen Epistles in the New Testament and made thousands of converts.
Born in Tarsus—now a city in Turkey—of Jewish parents, and Roman citizen from birth, St. Paul was martyred, beheaded, in Rome around 65 A.D.
Ave Maria!
St. Paul Pray for Us!
[Written by Mikel A. | TheRosaryNetwork.org, New York]
___
Today's Reading:
Jesus appeared to the Eleven and said to them: "Go into the whole world and proclaim the Gospel to every creature. Whoever believes and is baptized will be saved; whoever does not believe will be condemned." (Mk 16:15-18)