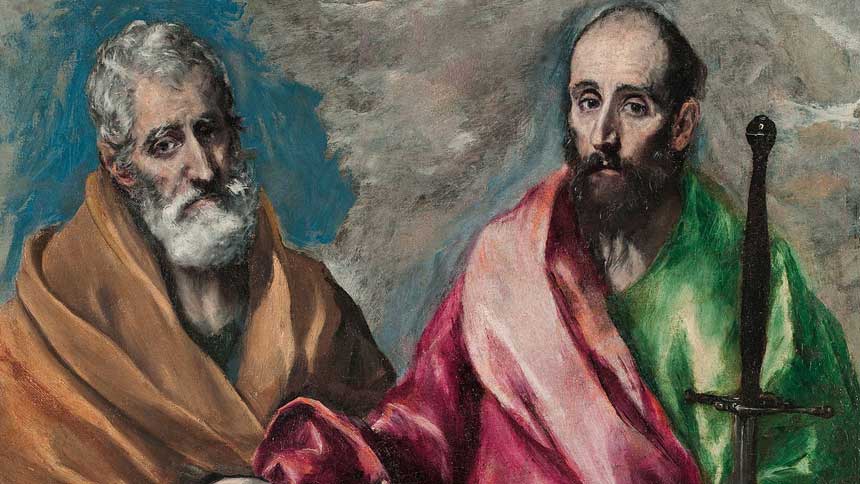 • June 29, 2021, Holy Rosary Today 7:30 pm ET, YouTube.com/TheRosaryNetwork
• Audio Podcast available by 7:00 pm ET
Friends of the Rosary:
Today, on the solemnity day of Sts. Peter and Paul, we venerate the two apostles and martyrs who are the rock on which the universal Church of Christ is built.
St. Peter was buried on the hill of the Vatican, in the place of the Basilica of St. Peter's, Christendom's most famous shrine.
After the ascension of Jesus, Peter took the leading role that Christ had entrusted to him.
He was Rome's first bishop, and he died here bound to an inverted cross in the year 67 A.D. He holds the keys of Heaven.
St. Paul was beheaded in the Via Ostia on the spot where now stands his basilica.
Paul the Apostle didn't see Jesus during His earthly life, although he was favored with special revelations. He experienced a notorious conversion, becoming the greatest of the early Christian missionaries.
His 13 letters set the foundations of the Catholic doctrine. He taught that the Holy Spirit is the source of all love (Romans 5:5).
Ave Maria!
Jesus, I Trust In You!
Sts. Peter and St. Paul, Pray for Us!
+ Mikel A. | TheRosaryNetwork.org, New York