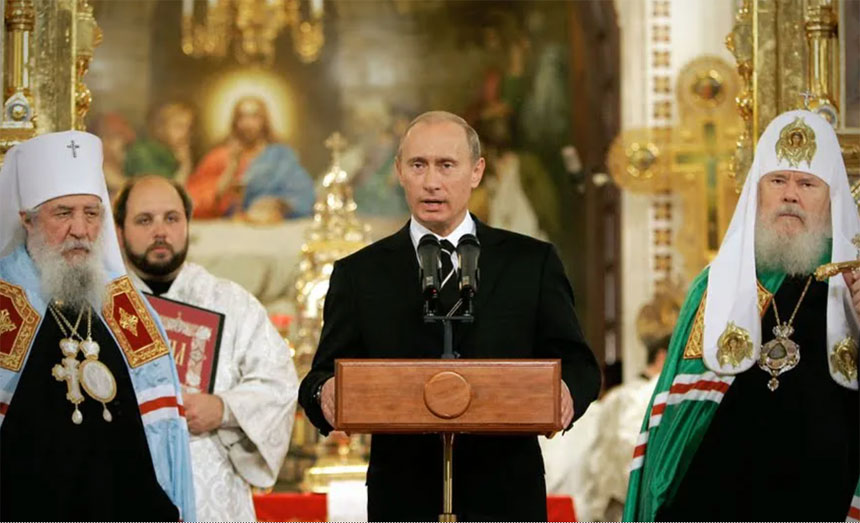 [ In the Memory of María Blanca ]
• March 11, 2021, Today's Holy Rosary in YouTube — Daily broadcast at 7:30 pm ET
• Audio Podcast of this Rosary Available Here Now!
• In Memoriam of Maria Blanca: Testimonials
Friends of the Rosary:
Vladimir Putin has a unique opportunity to convert and change the world. He claims to defend the Orthodox Christian Church but for now, he is behaving as an atheist Stalinist leader.
Mr. Putin, if you want to be admired, be open to the Holy Spirit and experience a sense of charity. For sure, the West and its relativistic, very often anti-Christian philosophy is awful. They might trick you with NATO and other promises.
At this point, just ponder what Jesus said to his apostles (Mt 25:31-46) and picture the poor Ukrainian victims and the refugees:
"For I was hungry and you gave me food,
I was thirsty and you gave me drink,
a stranger and you welcomed me,
naked and you clothed me,
ill and you cared for me,
in prison and you visited me."
You are 69 years old. How much life do you have ahead, 20 years at the most? Life is eternal, as you know. But we all are running out of time.
Listen to your conscience, ask for forgiveness, convert, and stop the brutal invasion of Ukraine. Be like Poland. The world will recognize your effort.
We ask this to you in the name of Our Lady of the Rosary.
Ave Maria!
Jesus, I Trust In You!
+ Mikel A. | RosaryNetwork.com, New York
—
Tomorrow, Saturday 12, we will march in Greenwich, Connecticut, for peace in Ukraine. Please join us.