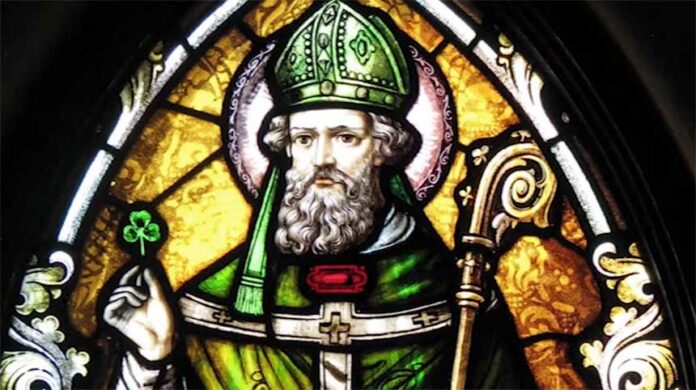 • March 17, 2023, Today's Rosary on YouTube | Daily broadcast at 7:30 pm ET
• Audio Podcast of this Rosary is Available Here Now!
Friends of the Rosary:
We honor today St. Patrick, the fifth-century bishop and saint who brought Christianity to Ireland, converting the whole country from their pagan gods to the one true faith.
And Ireland, despite being a small country, has played a large role in spreading Christianity throughout the world.
In his attributed autobiography, called Confessions, and written in all humility, St. Patrick said:
"I am greatly God's debtor, because he granted me so much grace, that through me many people would be reborn in God, and soon after confirmed, and that clergy would be ordained everywhere for them, the masses lately come to belief, whom the Lord drew from the ends of the earth, just as he once promised through his prophets: "To you shall the nations come from the ends of the earth, and shall say, Our fathers have inherited naught hut lies, worthless things in which there is no profit." And again: "I have set you to be a light for the Gentiles that you may bring salvation to the uttermost ends of the earth." 
Ave Maria!
Jesus, I Trust In You!
+ Mikel A. | RosaryNetwork.com, New York