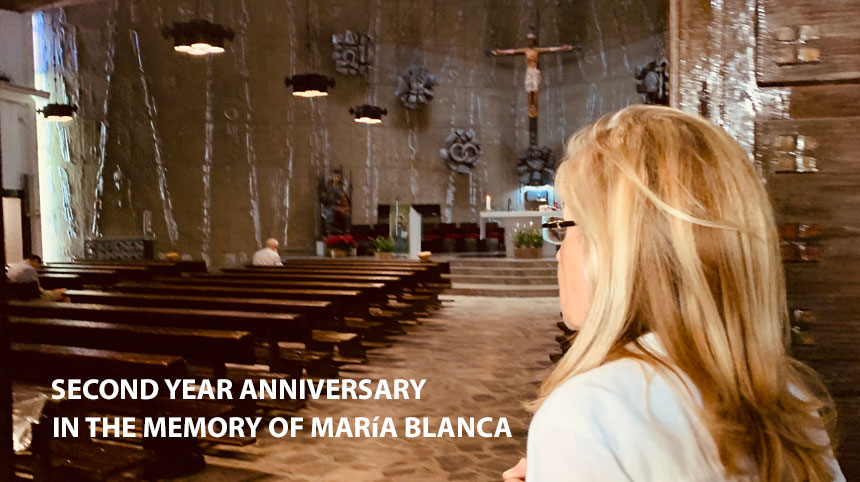 [ Second Year Anniversary | In the Memory of María Blanca ]
• March 21, 2021, Today's Holy Rosary in YouTube — Daily broadcast at 7:30 pm ET
• Audio Podcast of this Rosary Available Here Now!
• In Memoriam of Maria Blanca: Testimonials
Friends of the Rosary:
Today, we celebrate the second year anniversary of the Rosary Network. On March 21, 2020, when the pandemic broke, we prayed our first Rosary online.
It was a modest live broadcast on YouTube from an improvised home studio in Greenwich, Connecticut. Since then, we've prayed 730 Rosaries, one per day. You can check all of them on our YouTube channel. It's a miracle that we haven't missed any single day. Only the grace of God channeled through the Blessed Virgin Mary, explains that amazing achievement. Luckily, we are instruments in the hands of the Divine Mercy. We rejoice in being useful collaborators.
In these two years, we've seen and experienced almost everything, including the painful passing of my holy wife Maria Blanca, to whom this apostolate is dedicated. We are still heartbroken. But, as my wife said to us, "we live for God." Our faith is our richness and our Holy Rosary is the tool for survival.
We give thanks to Jesus and Mary and ask for their forgiveness for our multiple sins.
Ave Maria!
Jesus, I Trust In You!
+ Mikel A. | RosaryNetwork.com, New York