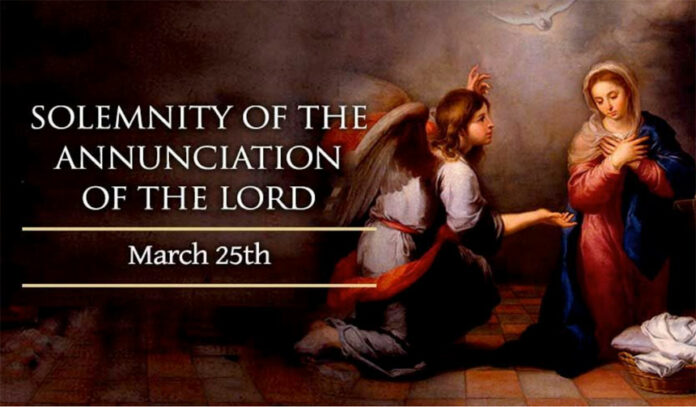 • March 25, 2023, Today's Rosary on YouTube | Daily broadcast at 7:30 pm ET
• Audio Podcast of this Rosary is Available Here Now!
Friends of the Rosary:
Today is the Solemnity of the Annunciation of the Lord. We commemorate the great mystery of the Incarnation, the most sublime event in history when God assumed human nature in the womb of the Virgin Mary.
It was at the hour of midnight when the Most Holy Mary was alone and absorbed in prayer that the Archangel Gabriel appeared before her. The Archangel asked her, in the name of the Blessed Trinity, to consent to become the Mother of God.
Mary bowed and gave her fiat — 'be it done' — by saying to the heavenly messenger: "Behold the handmaid of the Lord: be it done to me according to thy word."
As so many fathers of the Church remarked, the obedience of Mary, the second Eve, repaired the disobedience of the first Eve. The eternal Son of God began His human life in the chaste womb of Mary.
Ave Maria!
Jesus, I Trust In You!
+ Mikel A. | RosaryNetwork.com, New York