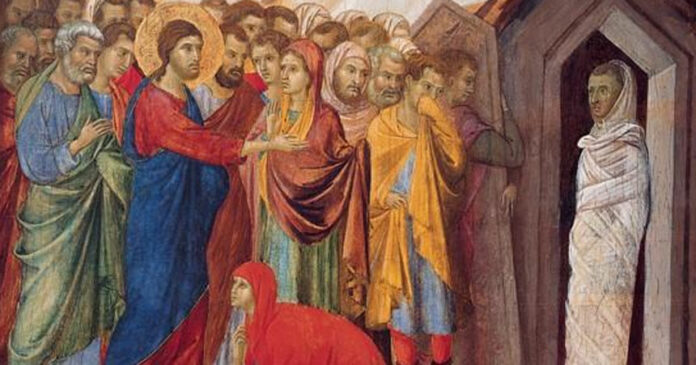 • March 26, 2023, Today's Rosary on YouTube | Daily broadcast at 7:30 pm ET
• Audio Podcast of this Rosary is Available Here Now!
Friends of the Rosary:
This fifth Sunday of Lent is the final Sunday of Lent before the beginning of Holy Week.
When parishioners go to Mass today, they will see that their church might have covered crosses and images. They will remain covered until the end of the Celebration of the Lord's Passion on Good Friday.
And today, the Catholic Church invites us to turn our attention to the reality of the painful human experience of the death of a loved one. For believers, death on this earth is a transition into a more perfect life.
In the Gospel, we hear the great miracle of Jesus's gift of life to his friend Lazarus when He raised him from the dead (John 11:1-45).
Jesus said, "I am the resurrection and the life; whoever believes in me, even if he dies, will live, and everyone who lives and believes in me will never die."

In the raising of Lazarus, we witness Jesus's divinity and we also see his human side weeping for his friend.
Lazarus became a sign of hope and conversion.
Ave Maria!
Jesus, I Trust In You!
+ Mikel A. | RosaryNetwork.com, New York