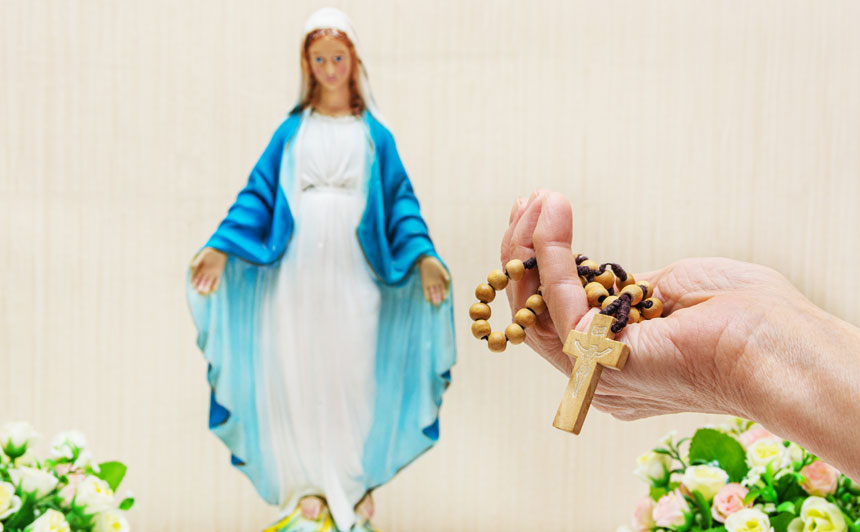 • March 5, 2021, Holy Rosary Today 7:30 pm ET, YouTube.com/TheRosaryNetwork
• Audio Podcast available by 6:00 pm ET
Friends of the Rosary:
The Holy Rosary is not just an ornament or an object that we wear to show it proudly to our friends, followers, or voters—as we are shockingly seeing at the national scene today.
The Rosary of the Virgin Mary is meant to be prayed. And when prayed, we need to be open to the Holy Spirit and be led by Divinity. At least, during the 20 to 30 minutes of the prayer duration, we should lose control, and even self-deny ourselves.
The Rosary will change us over time. Our perceptions, thoughts, as well as our social and political ideas, will be changed. And since the Holy Rosary is a tool of orthodoxy and a school of Christian life, we will end up defending the Catechism, life of the unborn, marriage, sacraments, the Holy Eucharist, and the Blessed Mother.
The Most Holy Virgin will lead us to her divine Son and life of Earth will be transformed. Let's say, ideally every day, the Marian prayer, and see what happens.
Ave Maria!
[Written by Mikel A. | TheRosaryNetwork.org, New York]