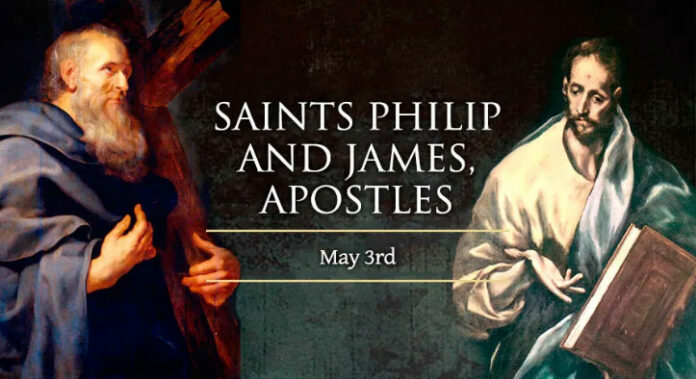 • May 3, 2023, Today's Rosary on YouTube | Daily broadcast at 7:30 pm ET
• Audio Podcast of this Rosary is Available Here Now!
Friends of the Rosary:
Today is the Feast of Sts. Philip and James the Less, two of the twelve apostles of Christ.
Immediately, Philip began to convert others, finding his friend Nathaniel (St. Bartholome) and telling him that Jesus was the one whom Moses and the other prophets had foretold.
Christ declared to St. Philip, "Whoever has seen me has seen the Father…I am the Father and the Father is in me" (Jn 14:8, 11).
James the Lesser is called "Lesser" because he was younger than the other Apostle by the same name, James the Great. He was a cousin of Our Lord. He is often called St. James the Less because of St. Mark's reference to him as "the younger" (Mk 15:40). As bishop of Jerusalem, St. James wrote an Epistle of the New Testament.
These apostles suffered and were persecuted, and now they rejoice in heaven. Like them, we too must have confidence in God and not be troubled by our adversities. In our Father's house, there are many mansions, and if we follow the way indicated by Him, Christ will come at the end of our life and take us to Himself.
Ave Maria!
Jesus, I Trust In You!
Sts. Philip and James, Pray for Us!
+ Mikel A. | RosaryNetwork.com, New York