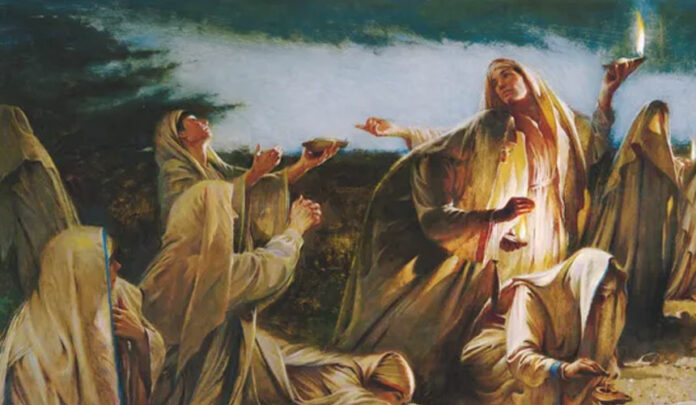 • November 12, 2023, Today's Rosary on YouTube | Daily broadcast at 7:30 pm ET
• The Audio Podcast of this Rosary is Available Here Now!
Friends of the Rosary:
Today, in Sunday's reading, we reflect upon the Parable of the Ten Virgins, also known as the Parable of the Wise and Foolish Virgins or the Parable of the Ten Bridesmaids (Matthew 25:1–13).
Ten virgins await a bridegroom; five have brought enough oil for their lamps for the wait, while the oil of the other five runs out. The five virgins who are wise and are prepared for the bridegroom's arrival are rewarded, while the five who went to buy further oil miss the bridegroom's arrival and are disowned.
While the foolish virgins are away trying to get more oil, the bridegroom arrives. The wise virgins then accompany him to the celebration. The others arrive too late and are excluded from the event.
The parable has a clear theological meaning: be prepared for the Day of the Judgement and the entrance into the Kingdom of Heaven.
Ave Maria!
Jesus, I Trust In You!
To Jesus through Mary!
+ Mikel A. | RosaryNetwork.com, New York