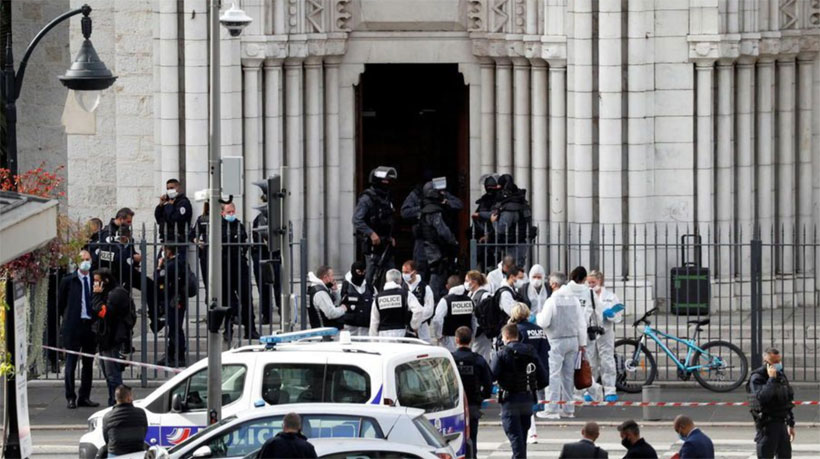 • October 30, 2020, Holy Rosary at 7:30 pm ET, at YouTube.com/TheRosaryNetwork
• Audio Podcast available by 6:00 pm ET
Friends of the Rosary,
Yesterday, a terrorist armed with a knife and shouting "Allahu Akbar", killed three people at the Basilica of Notre-Dame in Nice, France. The attacker was later arrested by the local police.
A few days ago, in another horrific attack, a French professor was beheaded in Paris. We pray for the martyrs killed in France and for their families.
The perpetrators who committed these murders in the name of his prophet were full of hate and evil. Islamism, like Marxism, Socialism, or any other radical religion or ideology, is contrary to the truth of Jesus Christ and the Blessed Virgin Mary.
Either we belong and serve Jesus Christ or we are against Him. Those who praise anti-Christian should convert and hope for the forgiveness of Jesus. Otherwise, their souls might be lost forever.
[Written by Mikel A | The Rosary Network, New York]

—-
In this month of October, the month of the Rosary, we once again pray for the complete purification and conversion of souls, including the Radical Islam terrorists and those who support them. 
A massive conversion and supplication to the Lord are needed to end up the COVID pandemic, stop radical ideologies, and stop further tribulation. 
For being enlightened by the Holy Spirit, and like Jesus in the Garden of Gethsemane, for having the grace and wisdom to accept the Father's will, no matter how painful it is.