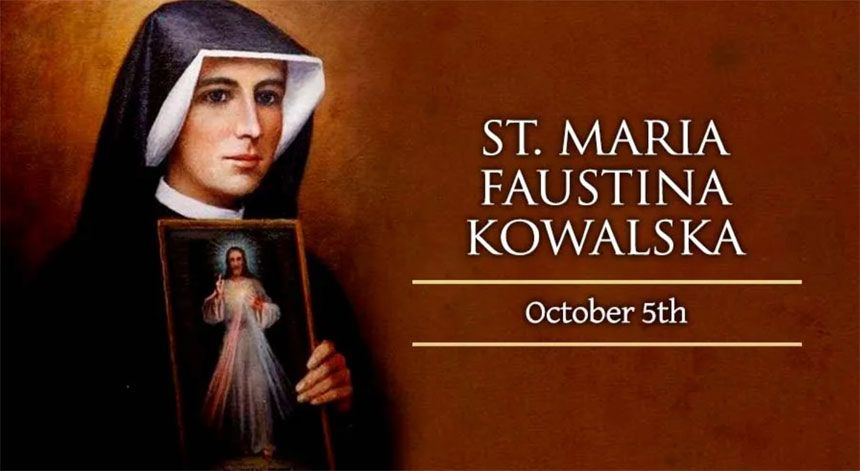 • October 5, 2021, Today's Rosary on YouTube | Daily broadcast at 7:30 pm ET
• Audio Podcast of this Rosary Available Here Now!
Friends of the Rosary:
The universal God's church celebrates today the memorials of three saints: the 6th-century monk St. Placid of Messina, the 19th-century German Redemptorist priest in New Orleans Blessed Francis Xavier Seelos, and St. Faustina Kowalska (1905-1938), the Polish nun chosen by Jesus to remind the world of the mystery of God's merciful love, the devotion to Divine Mercy. It is the message of Jesus Christ's love for all people, especially sinners.
In 1931, Jesus appeared to Faustina as the King of Divine Mercy. He asked her to have a picture painted of him as she saw him — clothed in white, with red and white rays of light streaming from his heart. The rays represent the blood and water that flowed from the side of Jesus on the cross. Under the image are the words, "Jesus, I trust in you." The painting of the Divine Mercy would become a worldwide focus for devotion.
Many people, including Church theologians and even the sisters in her own convent, did not believe Faustina at first. They thought that Jesus could not possibly have selected an uneducated peasant girl.
Faustina recorded in her diary the appearances of Jesus. The diary was translated into English and published in 1987 with the title Divine Mercy in My Soul.
Faustina died of tuberculosis. She was canonized by John Paul II. He also declared the first Sunday after Easter was Divine Mercy Sunday.
Ave Maria!
Jesus, I Trust In You!
St. Faustina Kowalska, Pray for Us!
+ Mikel A. | RosaryNetwork.com, New York