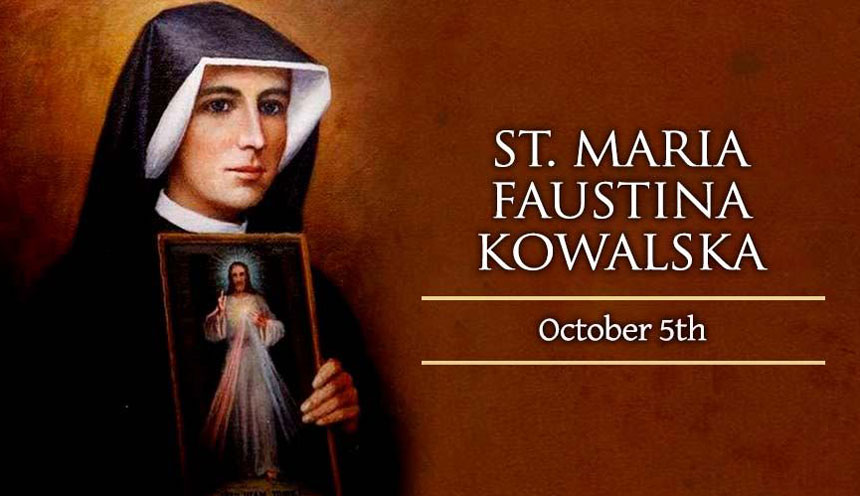 • October 5, 2021, Rosary Today 7:30 pm ET, YouTube.com/TheRosaryNetwork
• Audio Podcast available by 6:00 pm ET
Friends of the Rosary:
Today, Tuesday, October 5, we honor, among other saints, one of the favorites of The Rosary Network: St. Maria Faustina Kowalska, the contemporary mystic, a Polish nun who became the apostle of the Divine Mercy.
Jesus Christ entrusted her with the mission of proclaiming to the whole world the old, eternal message of his merciful love for all people, especially sinners.
In 1931, Jesus appeared to Faustina as the King of Divine Mercy. He asked her to have a picture painted of him as she saw him — clothed in white, with red and white rays of light streaming from his heart. The rays represent the blood and water that flowed from the side of Jesus on the cross. Under the image are the words, "Jesus, I trust in you."
The Savior appeared to her several more times; Faustina recorded them in the diary.
St. Faustina died of tuberculosis at age 33, suffering greatly in her final years.
With St. Maria Faustina Kowalska started the Divine Mercy Chaplet devotion, a five to ten minutes prayer recited over the beads of the Holy Rosary.
Ave Maria!
Jesus, I Trust In You!
St. Maria Faustina Kowalska, Pray for Us!
+ Mikel A. | TheRosaryNetwork.org, New York