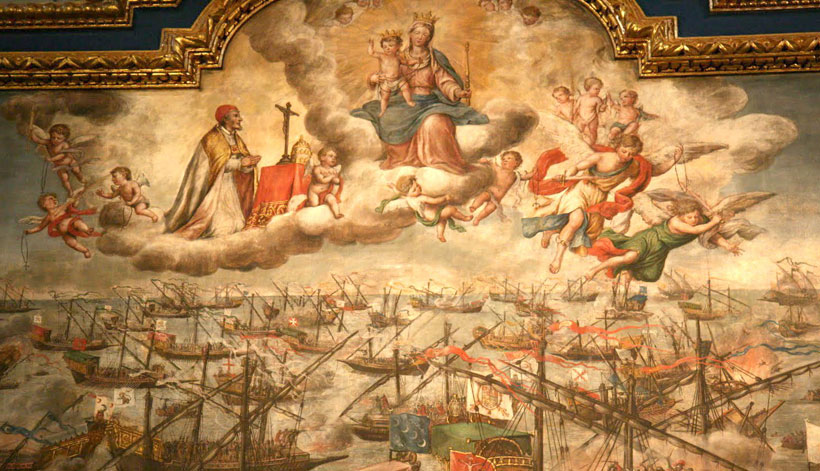 • October 7, 2020, Holy Rosary at 7:30 pm ET, at TheRosaryNetwork.org/youtube
• Audio Podcast available by 8:00 pm ET
Friends of the Rosary,
Each year, on October 7 we celebrate the memorial of Our Lady of the Rosary. In the 16th century, the Virgin Mary intervened at the request of Pope St Pius V and avoided the invasion of Europe by a very powerful Islamic army. That would have been the end of Christianity in the Western Hemisphere.
Pope Pius V did not only prayed, but he organized a fleet called the Holy League to confront the navy of the Ottoman Empire. He also promoted Rosaries all across Europe and went on a personal incessant prayer, Rosary after Rosary. The European population was so scared then and reacted with such faith in Mary that Christians won the Battle of Lepanto, in Greece.
As we say in the Memorare, when we implore for the help to Our Blessed Mother, She always answers. In Portugal and Austria, in the 20th Century, massive Rosary prayers stopped the Communist threat.
Would we end up with a pandemic today, if millions of people were praying the
Rosary? No one in our community has any doubt about it, right? Let's hold our most salvific tool.
[Written by Mikel A | The Rosary Network, New York]
—
In the feast of Our Lady of the Rosary, for rediscovering, as Pope Francis invited today, the beauty of the rosary prayer this month, and for encouraging people to carry a Rosary with them in their hands or their pockets. 
As Pope said, the recitation of the rosary is the most beautiful prayer we can offer to the Virgin Mary; it is a contemplation on the stages of the life of Jesus the Savior with his Mother Mary and is a weapon that protects us from evils and temptations.
"In some evenings we can feel useless and lonely. It is then that prayer will come and knock on the door of our hearts," he said. "And even if we have done something wrong, or if we feel threatened and frightened when we return before God with prayer, serenity and peace will return as if by a miracle."
• Month of the Rosary and Our Lady of Victory
• The Battle of Lepanto, on page 16 of the free ebook "The Rosary, A Gift From Heaven"