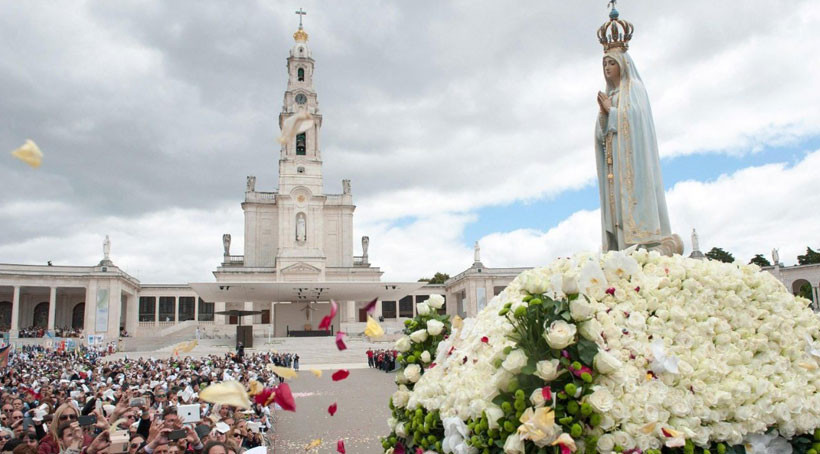 By Fr. Benedict Mayaki, SJ
During the General Audience, Pope Francis urged the faithful to pray to Our Lady, reminding us that 13 May is the feast of Our Lady of Fatima.

"Today we celebrate the liturgical memorial of Our Lady of Fatima," said Pope Francis in his greetings to Polish-speaking listeners at the weekly General Audience. "We turn our thoughts to the apparitions and its message transmitted throughout the world," he added.
Pope Francis recalled the attack on the life of Pope St. John Paul II. He pointed out that his predecessor experienced "the maternal intervention of the Holy Virgin" in sparing his life.
The Pope also said that Monday, 18 May, marks the 100th anniversary of JPII's birth. The Pope said he will celebrate his morning Mass on the altar over the Saint's tomb in St. Peter's Basilica. "Let us thank God for giving us this saintly Bishop of Rome," he said, "and ask him to help us: that he might help this Church of Rome to convert and strive ahead."
Pope Francis then went on to pray for peace in the world, the end of the coronavirus pandemic, and the spirit of penance and conversion for the world through the intercession of Our Lady.
The Pope invited the Italian-speaking faithful to have constant recourse to Our Lady's help, so that everyone might persevere in the love of God and neighbour. He prayed especially for the young, the elderly, the sick and the newlyweds.
Invitation to pray the Rosary
In his greetings to the Portuguese-speaking faithful, Pope Francisurged Catholics to try to live out this month of May with a more intense and faithful daily prayer. He reminds us that the prayer of the Rosary is one of the desires repeatedly expressed by the Madonna at Fatima. "Under her protection, the pains and afflictions of life will be more bearable," he said.
Love of neighbour
Addressing the German-speaking faithful, Pope Francis reminded us that the many examples of the love of God for us are a "strong invitation to love all the people we meet," especially in this time of social-distancing due to Covid-19. He prayed that the Holy Spirit might fill us with charity and joy.
Our Lady of Fatima
Between May and October 1917, Our Lady appeared several times to three Portuguese children – Francisco and Jacinta Marto, and their cousin, Lucia dos Santos, in a cove near Fatima, in Portugal. In those apparitions, Our Lady asked the children to pray the Rosary for the world and for the conversion of sinners.
Pope St. John Paul II visited Fatima three times – in 1982, 1991 and 2000. During his 2000 visit, he beatified Jacinta and Francisco. The liturgical memorial of Our Lady of Fatima is celebrated on 13 May annually.
• Fatima.org: A Blessed Feast of Our Lady of Fatima to You by David Rodriguez