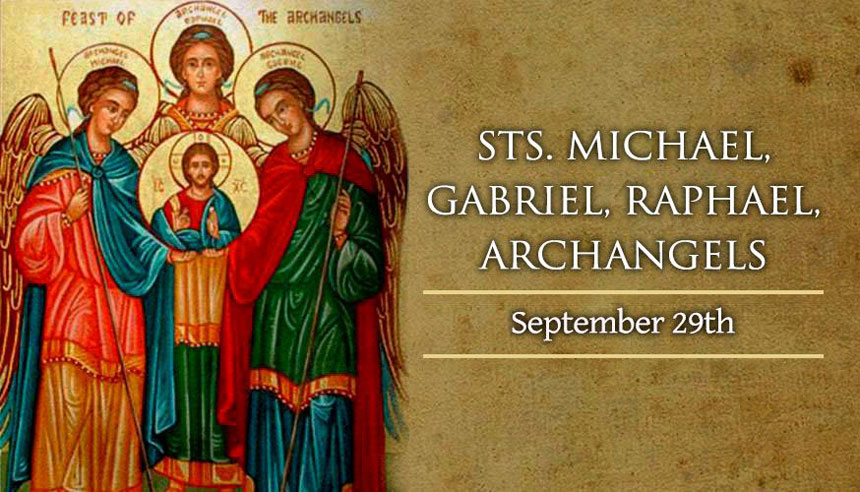 • September 29, 2021, Rosary Today 7:30 pm ET, YouTube.com/TheRosaryNetwork
• Audio Podcast available by 6:00 pm ET
Friends of the Rosary:
Today is the feast of the three Archangels, Michael, Gabriel, and Raphael. These God's messengers are named in the Scriptures several times, and all three have critical roles in the history of our salvation.
St. Michael is the "Prince of the Heavenly Host," the leader of the angels, a warrior who goes against Lucifer and his followers, defeating them consistently — with the help of the Blessed Virgin Mary. At the end of each Rosary, we ask for the protection of St. Michael.
St. Gabriel, whose name means "God's strength", appears to announce to Zacharias the birth of John the Baptists, and to the Virgin Mary during the mystery of the incarnation. Probably, he appeared as well to St. Joseph and to Jesus in the garden of Gethsemane.
St. Raphael appears in critical moments for healing and acts of mercy. His name means "God has healed."
We ardently love our three Archangels. We recognize them as spectacular companions in our dwelling on Earth.
Ave Maria!
Jesus, I Trust In You!
Sts. Michael, Gabriel, and Raphael Pray for Us!
+ Mikel A. | TheRosaryNetwork.org, New York
––––
Today, on the feast day of the three holy archangels, we pray for the health of Maria Blanca, in the Divine Will. She is still hospitalized in La Paz (Madrid), as her condition has worsened in the last few days. We are hopeful that she will recover and will come home soon. Ave Maria!
––––