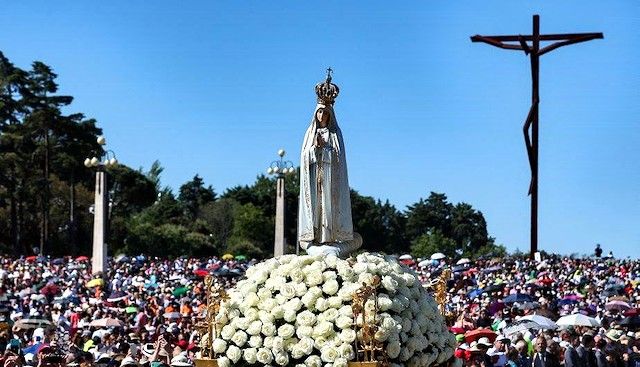 The Rosary Network | New York
This year, the Virgin of Fatima's annual celebration in the Shrine of Fatima, Portugal, on May 13th will be virtual.
There won't be any public in-person celebration with the faithful until May 30th and 31st. However, the pilgrims are now allowed to visit individually the Sanctuary.
The candlelight night was broadcasted on this website on May 12th at 9:30 pm Portugal Time (4:30 pm ET). Here is the video:
The Rosary on May 13th will start at 9:00 am Portugal Time in the Chapel of the Apparitions. At 10:00 a.m. the Solemnity Mass of Our Lady of Fatima will be celebrated, presided by Cardinal António Marto, Bishop of Leiria-Fatima.
The celebrations of this first International Anniversary Pilgrimage, which evokes the first Apparition of Our Lady in Cova da Iria, will end with the Farewell Procession.
Further details will be announced on the events page.
The reference website for following Fatima's events is Fatima.pt
This is the message from the Rector of the Shrine.
CELEBRATIONS SCHEDULE (from after Easter until end of October; Portugal Time):
08h00 – MASS, in Italian (Monday through Friday).
10h00 – ROSARY (Saturdays & Sundays).
12h00 – ROSARY (Monday through Friday).
12h30 – MASS (Monday through Saturday).
14h00 – HOUR OF REPARATION TO THE IMMACULATE HEART OF MARY.
15h30 – MASS, in English (Monday to Friday).
16h00 – ROSARY (Sundays only).
16h30 – MASS (Sundays only).
17h00 – SALUTATION to Our Lady (Saturdays only).
18h30 – ROSARY
19h15 – MASS, in Spanish(Monday through Friday).
21h30 – ROSARY & CANDLELIGHT PROCESSION. (On Thursday, procession of the Blessed Sacrament).
On the Anniversary pilgrimages, the evening celebrations on the 12th and the morning ones on the 13th are broadcast live from the Prayer Area of the Shrine of Fatima.
Every Sunday, during Summer time, the 11:00 Mass is celebrated in the open Prayer area of the Fatima Shrine and is also broadcasted live through internet.
• The story in Spanish at Cari Filii